Tigerlt Voc Detector Success

ION Science Tigerlt Voc Detector Succeeds Where Others Have Failed For Lone Star Hazmat Response
Handheld photoionization detector helps Texas-based emergency spill response specialist ensure the safety of first responders.
Texas-based Lone Star Hazmat Response is using a handheld TigerLT volatile organic compound (VOC) monitor from Ion Science (www.ionscience.com) – leading manufacturer of advanced gas detection instrumentation for global occupational health and environmental monitoring applications – to identify the presence of potentially harmful VOCs at hazardous materials incidents. Chosen for its ease of use, quick start, and humidity-resistant design, the entry-level photoionization detector (PID) is helping the emergency spill and land remediation specialist to increase efficiencies by quickly and accurately determining the level of protection required by first responders.
For more than 15 years, Lone Star Hazmat Response has excelled at providing industry-leading emergency spill response as well as safe and effective environmental remediation services. The company has steadily added to its capabilities and now maintains four strategically located rapid response centers in eastern Texas, which allows it to deploy rapidly whenever an emergency requires its services.
The Lone Star Hazmat Response team, which comprises hazmat specialists and incident commanders, works closely with first responders including firefighters, police, and paramedics to provide critical support across a range of hazardous materials incidents. These include roadside emergency spills involving oil, diesel fuel, and gasoline, product transfer for situations where fluid must be moved from a compromised vehicle to another, or in the unfortunate event of an oil, gas, or saltwater release.
As part of its commitment to ensuring the safety of first responders, Lone Star Hazmat Response is using the Ion Science TigerLT PID to identify the presence of potentially harmful VOCs on scene and advise on the level of protection required.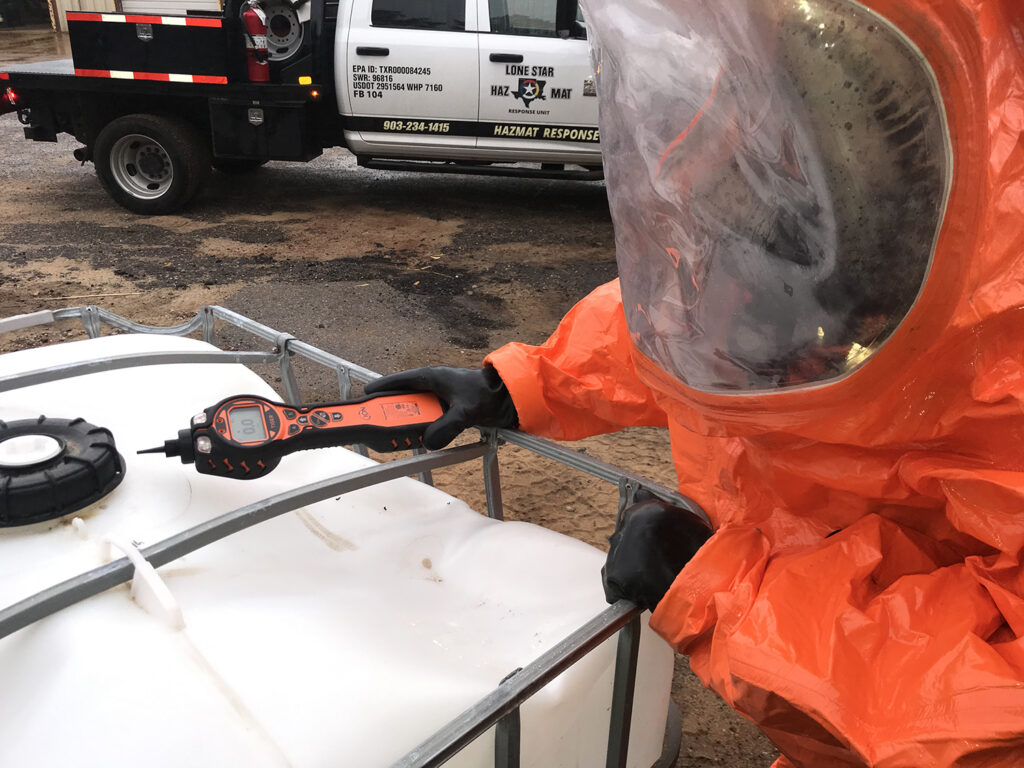 Lone Star Hazmat Response uses PID instruments to quickly identify the presence of gases and vapours. Monitoring the ambient air for parts per million (ppm) and parts per billion (ppb) concentrations of VOCs allows the company to quickly evaluate the danger and determine if leaking fugitive gases are toxic.
Richard Lenius, General Manager at Lone Star Hazmat Response comments: "After meeting Ion Science at the TCEQ trade conference and learning more about its products, we chose the TigerLT handheld PID as it met our cost and functionality requirements. During testing, the instrument proved extremely easy to operate and ready to use immediately after powering on. As we get called out to all kinds of environments, I was also particularly drawn to the instrument's humidity resistance and anti-contamination design especially as our other PIDs had failed on humid days."
Ion Science's TigerLT, which offers worldwide Intrinsic Safety (IS) certification for use in potentially explosive atmospheres, is a streamlined, low-cost version of Ion Science's well-proven Tiger PID model.
Like all Ion Science PID instruments, the TigerLT incorporates the company's market-leading PID technology with advanced patented fence electrode system. This three-electrode format ensures increased resistance to humidity and contamination for ultimate reliability and accuracy in the field.
With a detection range of 0.1 – 5,000 ppm utilizing a standard two-point calibration protocol, Ion Science's robust TigerLT also offers an unrivaled industry response time of just two seconds and equally quick clear down.
Although a PID is not specific in terms of gas selection, it offers a continuous and almost instant response rate enabling first responders to carry out their duties secure in the knowledge that their exposure to hazardous chemicals is limited.
"By its very nature, emergency response work carries an element of the unknown which can sometimes hinder our ability to quickly provide the vital information needed by first responders to ensure their own protection as well as that of bystanders and the wider community," Richard adds. "Even in the most challenging environments, a single PID like the Ion Science TigerLT gives fast, accurate and reliable results and a true reading rather than a percentage of mixed air."
Both simple to operate and service, the TigerLT offers easy access to the lamp and sensor with batteries that can be safely replaced in hazardous environments. The intrinsically safe instrument also meets ATEX, IECEx, UL and CSA standards.
"the TigerLT six pin MiniPID detector cell with anti-contamination design dramatically extends run time in the field"
The key advantage of TigerLT over other similar, low-cost handheld PID instruments is its market-leading accuracy and run time due to is anti-contamination and humidity-resistant design. Another attribute is its global Intrinsic Safety certification. Although the accreditation process can differ from country to country, the TigerLT can be used in explosive hazardous areas such as within petrochemical plants that are located anywhere in the world.
The TigerLT six-pin MiniPID detector cell with anti-contamination design dramatically extends run time in the field. Low-cost filters and lamps can be easily changed in minutes, minimizing downtime.
It features long-life rechargeable Li-ion batteries which give up to 24 hours usage. Fast battery charging allows the instrument to be fully charged in 6.5 hours, while eight hours of use can be achieved from 1.5 hours of charging time.
Richard continues: "The clear, backlit display with large font enables those members of the team that require glasses to see air readings better than the other PIDs we have used.  It is
also quick and ready for use in comparison. One of the features that we particularly like is the quick button for zeroing the air."
TigerLT features a protective, removable boot for harsh environments while a large, clear back-lit display allows for easy viewing in any light condition. It is IP 65 rated against water ingress. An integrated torch is designed for directing the instrument's probe into dimly lit areas. Other features include a loud 95 dB audible alarm and multiple language support.
Ready to use, straight out of the box, the TigerLT does not require complicated setup procedures via a PC to perform basic functions.
Richard concludes: "Overall we have been really pleased with the TigerLT and the service provided by Ion Science. We would definitely recommend the instrument to other emergency hazmat response companies. In fact, I have already demonstrated the TigerLT to multiple fire department hazmat teams."