Environmental Remediation
Taking Care Of The Environment Is Your Responsibility.
Let Us Help.
Removing contaminants from the soil can be essential for the protection of human health, as well as to restore the environment. From brownfield sites to sites that have been used to dispose of hazardous waste, environmental remediation can be a challenge, with federal regulations and Environmental Protection Agency (EPA) oversight and compliance.
Lone Star Hazmat Response offers complete environmental remediation services. Our crews have extensive experience and expertise in soil remediation and disposal methods. We work with industrial companies and other businesses to perform an environmental assessment of the site. We then remove contaminated soil in layers, from three inches up to several feet, and then remediate or replace the soil as needed.
From site assessment and mapping to extraction and remediation, our comprehensive approach, which combines highly skilled personnel, dedicated equipment, and proven processes, ensures thorough and effective performance through all phases of the waste cleanup project, no matter the complexity. We also provide a more cost-effective solution for our customers, while strictly adhering to safety considerations and environmental regulations to meet all local, state, and federal standards.
Spill Response Planning Can Save Lives.
An effective spill response plan is essential for reducing the impact of a spill incident at your business and creating a safer environment. The key parts to any spill plan include:
A contact list in the event of a spill, from supervisors and internal safety team members to a spill response partner like Lone Star Hazmat Response.
Employee training so people know how to evaluate and address the spill safely.
A spill kit and protective supplies on hand that are easily accessible, if the spill is minor and can be properly mitigated by your employees.
Having a spill response plan in place at your business is not a replacement for emergency spill response professionals, just as having a fire extinguisher in your kitchen does not replace the need for professional firefighters to respond to an emergency at home. If a spill occurs, safety is always the first and most important consideration.
Evacuate people from the immediate spill area for safety
Identify the spilled materials, if possible
Notify the contact list in your spill response plan, escalating as needed
If the area poses no immediate threat to safety, properly trained employees should continue.
Seal off the spill area to prevent anyone from entering the space
Disconnect any source of ignition and contact the fire department if the materials are flammable
Wear appropriate personal protective equipment (PPE)
Contain the spill from continuing
Clean up the spill with appropriate absorbent material
Dispose of the spill in accordance with local, state, and federal regulations
Your workplace should have an emergency action plan for evacuation and training in the event of a spill incident.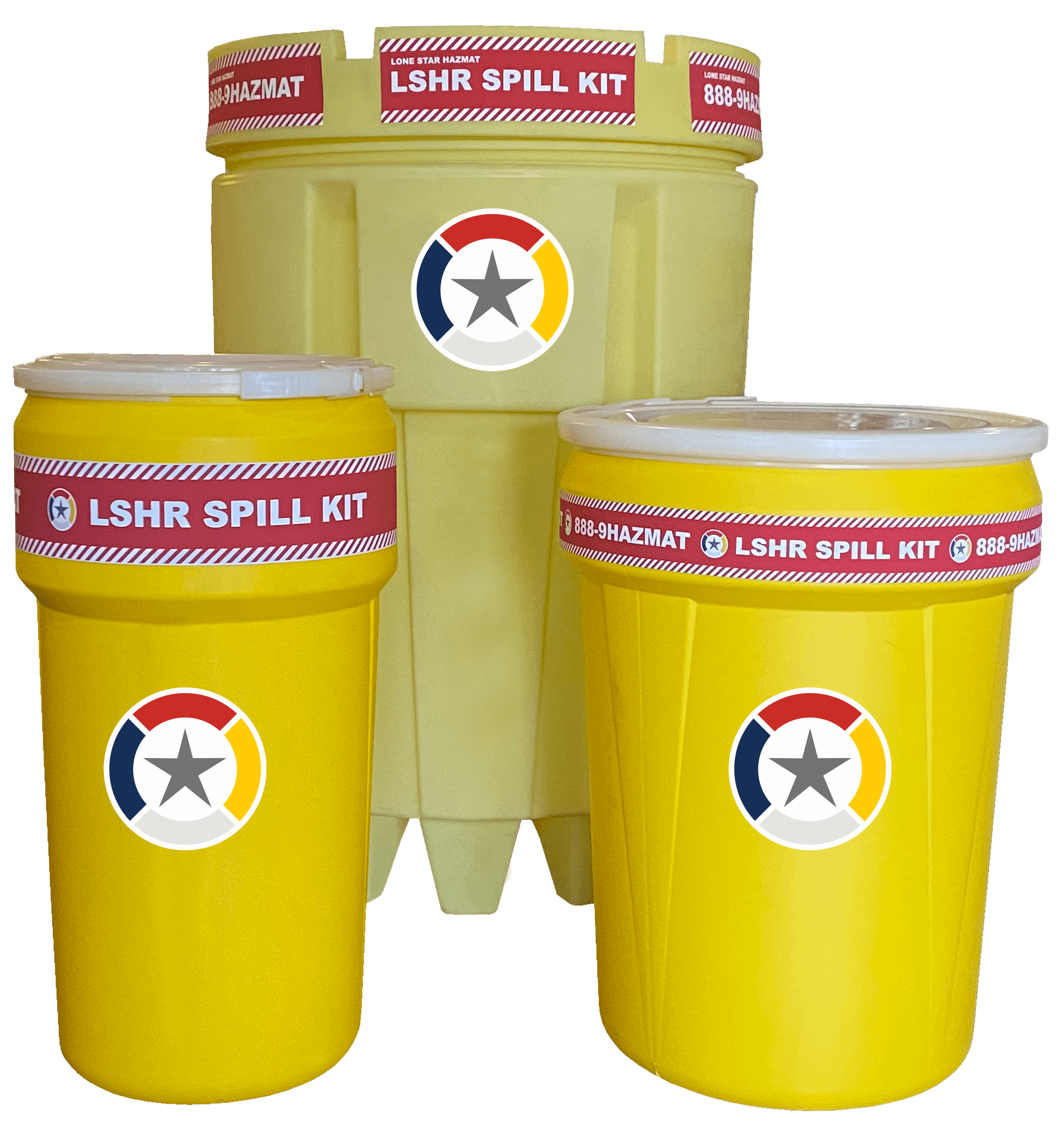 Spill Kit
A spill kit is an important part of every safety plan for business operations dealing with hazardous and non-hazardous materials. The basic parts of your spill kit should include:
A collection of spill response tools,
Proper spill supplies and absorbents, and
Personal protective equipment (PPE)
Having a spill kit on-site with a proper spill response plan will help anyone who is trained to respond to a spill safely and efficiently. A spill kit can save time by keeping necessary remediation items to manage the spill in one place and ready for use.
Lone Star Hazmat Response offers Spill Kits customized for the needs of your business and can provide the basic training to help you be better prepared in the event of a spill incident.
Disposal Can Save The Environment.
Once your site is remediated the waste should be properly removed and disposed of. The disposal of waste is highly regulated at the federal, state, and local levels by organizations. At Lone Star Hazmat, we follow guidelines from the Environmental Protection Agency (EPA), the Texas Commission on Environmental Quality (TCEQ), the Railroad Commission of Texas (RRC), Texas Parks and Wildlife (TPWD), Texas Department of Transportation (TxDOT), and other state and local agencies. We provide the required documentation, use of proper containers, and approved transportation for the disposal of both hazardous and non-hazardous waste to keep your business compliant. As an advocate for your company, we will maintain a face-to-face relationship on your behalf with the regulators in an effort to balance the requirements of government agencies with that of your company's bottom line.
Drum Delivery and Recovery
We offer a drum delivery and recovery service that provides your business with everything you need to properly dispose of your waste in approved 55-gallon drums, including volcanic ash, corn peat moss or cocoa powder absorbents, cleaning supplies, and even a containment pool and overpack, if needed. Our scheduled or on-demand services enable you to create a safe environment with assured compliance for transport and delivery of hazardous and non-hazardous materials.
Ask About A Spill Kit For Your Business Today
Decontamination Protects and Prevents.
Removing or neutralizing contaminants is critical to the health and safety of people and the environment. Protection from hazardous substances minimizes the transfer of harmful materials into clean areas, from chemicals, raw materials, oil and gas, biological hazards, and other dangerous materials. Decontamination protects the community by preventing uncontrolled contaminants to create a danger.
At Lone Star Hazmat Response, our decontamination services range from contaminant removal to disinfection, sterilization, and more. We assess and determine the best approach for the removal or inactivation of contaminants, including appropriate disinfection and sterilization to restore a safe environment.
Product Transfer
Our response capabilities include product transfer for situations in which fluid must be moved from a compromised vessel to another vessel. Transferring hazardous or non-hazardous materials with hydraulic or air-driven pumps enables you to recover your commodity or product minimizing unnecessary disposal.