Protect Your Business and Community:
Why Partnering with a Hazmat Emergency Response Team is Crucial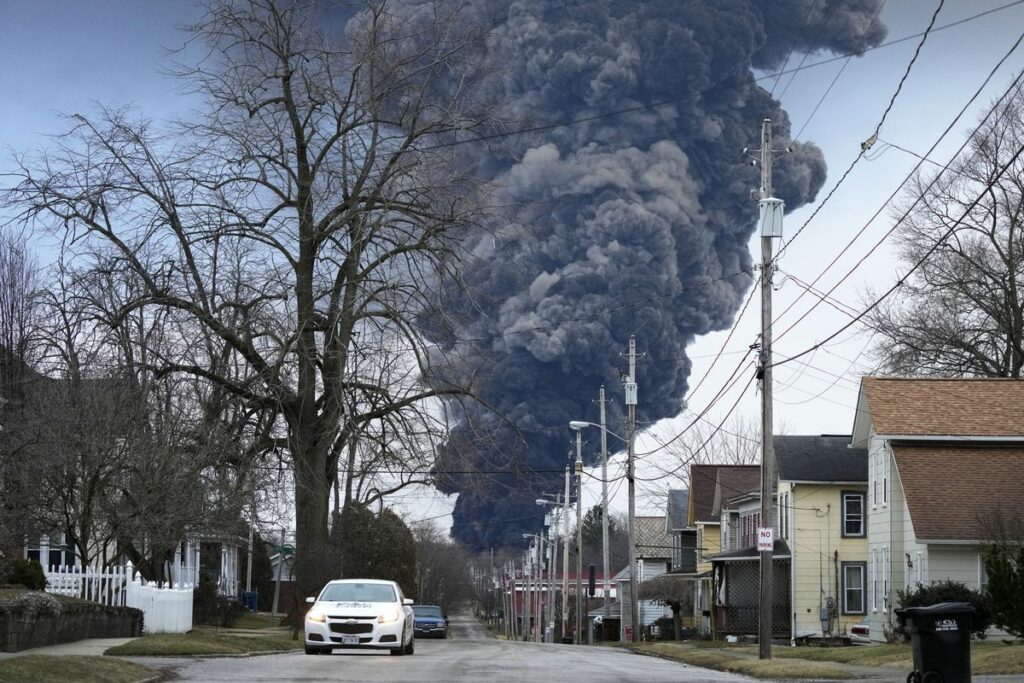 On February 3, 2023, a train derailment in East Palestine, Ohio resulted in a disaster in the making. Around 10:30 am, a train carrying a variety of chemicals derailed near the downtown area of the small town.
The East Palestine Fire Department was immediately dispatched to the scene, along with several other emergency response teams. Upon arrival, they found that several rail cars had derailed, and some of them had overturned, spilling their contents onto the ground. The train was carrying a variety of chemicals, including flammable liquids and corrosive substances. As a result of the derailment, some of these materials were released into the air, posing a significant danger to nearby residents.
On February 13, 2023, a truck carrying nitric acid overturned near Tucson, AZ, resulting in a hazardous materials release. The incident occurred in the morning, when the truck driver lost control of the vehicle on a sharp turn, causing it to overturn and spill its contents onto the ground. As a result of the spill, a large plume of toxic gas was released into the air, posing a significant danger to nearby residents.
The Arizona Department of Transportation and the local fire department were immediately dispatched to the scene, along with several other emergency response teams. They quickly established a perimeter around the accident site and ordered a mandatory evacuation of the surrounding area because nitric acid is a highly corrosive substance that can cause severe burns and respiratory problems if it comes into contact with the skin or is inhaled.
These incidents serve as a stark reminder of the dangers associated with transporting hazardous materials. While accidents like this are rare, they have the potential to cause significant harm to both people and the environment.
In the wake of these incidents, there will no doubt be a renewed focus on safety procedures and regulations for transporting hazardous materials. These incidents highlight the importance of emergency preparedness and response plans, as well as the critical role of first responders and emergency spill response partners in protecting public safety.
Hazardous materials are a fact of life in many industries, and accidents involving hazardous materials can pose serious risks to human health, property, and the environment. Whether it is a chemical spill, a gas leak, or an industrial fire, hazardous materials incidents require a prompt and coordinated response to minimize damage and prevent further harm.
One of the key elements of an effective hazardous materials emergency response plan is having a reliable and experienced partner to provide response, removal, and remediation services. Following proper protocols to minimize the risks to human health and the environment involve several steps to clean up a hazardous spill. These steps should only be handled by an experienced professional to avoid danger to the people and property around the spill.
This is where a company like Lone Star Hazmat comes in.
Lone Star Hazmat is a professional emergency response company that provides hazardous materials response, remediation, and disposal services across Texas and beyond. They have a team of highly trained and certified responders who are available 24/7 to respond to hazardous materials incidents, no matter how big or small.
Having a partner like Lone Star Hazmat can make all the difference when a hazardous materials incident occurs. They have the equipment, expertise, and resources to respond quickly and efficiently, minimizing the impact of the incident and helping to protect human health, property, and the environment.
Lone Star Hazmat's services include emergency response, hazardous waste removal, and site remediation. With a fleet of specialized vehicles and equipment, including hazardous materials response trailers, vacuum trucks, and air monitoring devices, to provide a comprehensive response to hazardous materials incidents and a team of highly trained and experienced responders, the emergency spill response professionals at Lone Star Hazmat Response are equipped with the latest personal protective equipment and are trained to handle a wide range of hazardous materials, including acids, bases, solvents, and more.
A hazardous spill can occur as a result of industrial accidents, transportation accidents, or natural disasters, and can release toxic chemicals or pollutants into the air, water, or soil. No one plans on a hazardous materials spill, but when an incident happens, it is important to act fast, follow proper procedures, and use a properly trained, professional spill response company with the right knowledge, experience, and equipment to ensure the spill is contained and safely cleaned up.
Call Lone Star Hazmat Response at 888-9HAZMAT today to find out how an emergency response partner can provide peace of mind for businesses and organizations that deal with both hazardous and non-hazardous materials.